About MBS
Founded in May 2000 by the Military Commercial Joint Stock Bank (MB), MB Securities Joint Stock Company (MBS) is one of the first six securities companies in Vietnam. After years of development, MBS has grown into one of the premier brokerage houses in the country. In two consecutive years between 2009 and 2010, MBS leads the brokerage house in terms of market share on both Hanoi Stock Exchange (HNX) and HCMC Stock Exchange (HOSE) and continuously ranked among the Top 5 of market share at both stock exchanges.
Leveraging the synergies as a key member of the MB Group, MBS has been able to grow quickly its operation scale and level of activities. Currently, MBS concentrates on developing Securities Services and Investment Banking supported by intensive research.
The company's network has expanded from its original head office in Hanoi to multiple branches and trading centers in Vietnam's major cities. Acknowledging that employee skill provides the underlying basic for competitiveness, MBS is constantly striving to attract and cultivate the most talented individuals in the securities industry. At MBS, professionalism, ethics and market expertise are emphasized in order to provide maximum value for the company's clients and shareholders.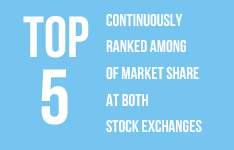 Competitive advantages
Large customer system
Well trained and professional talent pool with international experiences
Flexible, diversified and safe financing products
State-of-the-art technology platform
High level of business ethics and professionalism
Low cost
Company history
2013

Raised charter capital to 1.221 billion VND

Merged with VIT to establish a new company named MB Securities Joint Stock Company (MBS)

2012

Re-named as MB Securities Joint Stock Company (MBS)

Applied new logo and brand identity

2010

Raised charter capital to 1.200 billion VND

Led the brokerage house in terms of market share on both Hanoi Stock Exchange (HNX) and HCMC Stock Exchange (HSX)

2009

Raised charter capital to 800 billion VND

Opened Hai Phong Branch

Led the brokerage house in terms of market share on both Hanoi Stock Exchange (HNX) and HCMC Stock Exchange (HSX)

2008

Raised it's charter capital to 120 billion VND

2007

Implemented equitization

Raised charter capital to 300 billion VND

2006

Raised charter capital to 120 billion VND

2003

Raised charter capital to 43 billion VND

Opened Ho Chi Minh Branch

2000

Established by Military Bank (MB) with the charter capital 9 billion VND